Singapore boasts a fantastic public transit system that makes travelling around simple and convenient. You'll have no trouble zipping from one section of town to the another after you've mastered the metro map. English is widely spoken, and signs are also written in the language. In reality, Singapore is one of Southeast Asia's simplest and most comfortable nations to travel through. And as long as you don't compare rates to Thailand or Vietnam, you'll have a wonderful time.
Read our list of the best attractions in Singapore for suggestions on what to see and do.
Sentosa Island
Singapore isn't exactly known for its beaches, but if you're looking for a good time in the sun, Sentosa Island is the place to go. Siloso Beach is a great place to spend some time at the beach, with free volleyball courts, kayaking, and skimboarding available. There are numerous additional beach attractions, as well as an aquarium where you may swim with dolphins called Underwater World.
The Merlion, Singapore's iconic monument with the head of a lion and the body of a fish, is a must-see on Sentosa Island. An escalator will take you to the top of the monument, where you can enjoy panoramic views of the surrounding region.
Clarke Quay
Clarke Quay, dubbed the "heart of business throughout the nineteenth century," lives true to its reputation as a bustling metropolis. Today, it has a more polished shine, so visitors can cheerfully travel to Clarke Quay for an evening of waterfront eating and entertainment after a long day of shopping on Orchard Road.
River taxis and cruises leave from here as well, offering visitors the opportunity to see some of the city's ancient bridges and attractions like the Merlion from the river. A gigantic bungee-jumping facility, an adrenaline-packed thrill ride, is the Quay's biggest hit with younger travellers.
The Asian Civilisation Museum, the Civil Defence Heritage Gallery, which is housed in Singapore's oldest fire station, and the Hong San See Temple, a beautiful century-old Buddhist temple, are all nearby.
Universal Studios Singapore
Resorts World Sentosa is home to Universal Studios Singapore, which spans 49 acres. The park is themed, with each area honouring a certain place, film, or television programme. New York City, Hollywood, Madagascar, and a tour to Ancient Egypt are among the destinations. Shrek's Far Far Away, Lost World, and Sci-Fi City are among the fiction-themed zones, with Battlestar Galactica-themed duelling roller coasters and an indoor dark coaster, Revenge of the Mummy, dominating the thrill rides.
The park offers a variety of food options, shopping, and live performances throughout the day and night, in addition to its many rides, which vary from kid-friendly to daring.
Night Safari Singapore
Night Safari Singapore gives the conventional zoo experience a fresh spin by introducing visitors to the inhabitants' nocturnal lives. The park's habitats are separated into four parts, each with its own route for watching these secretive species go about their "day."
Leopards, among other species, may be found on the Leopard Trail, as well as lions, flying foxes, civets, and porcupines. The Fishing Cat Trail takes visitors on a tour of the habitats of Singapore's natural wildlife, including fish-loving felines, pangolin, binturong, and other common and rare species. Malayan tigers and spotted hyenas may be seen on the East Lodge Trail, while the Wallaby Trail introduces tourists to Australia's marsupials.
Private tours, buggy rides, informative seminars, and once-in-a-lifetime experiences, such as an Asian elephant feeding session, are all offered.
Merlion Park
The Merlion in Singapore is exactly what it sounds like: a mythological monster with the head of a lion and the body and tail of a fish. The Merlion symbolises the city's modest beginnings as a fishing hamlet, as well as its old Malay name, Singapura, which means "lion city."
The structure, which was moved to Merlion Park in 2002 to provide a view of Marina Bay, weighs 70 tonnes and is 8.6 metres tall, with a fountain spewing water from its mouth.
Asian Civilisations Museum
Visit the Empress Place Building if the Raffles Hotel and Fort Canning Park haven't satiated your appetite for colonial architecture. It was erected in 1865 and was named after Queen Victoria. It was designed in the Neoclassical style. It currently houses the Asian Civilisations Museum, which explores the various Asian civilizations that contributed to Singapore's formation.
The museum's holdings are organised around the themes of trade and spirituality, both of which have had a significant impact on Asian civilizations. The exhibits span subjects such as the Indian Ocean commerce, faith and belief stories, and a look at the long history of scholars in Chinese culture.
Pulau Ubin (Granite Island)
Visit the little island of Pulau Ubin, where fewer than 100 people still live in the same basic way they did in the 1960s, for a glimpse of life in Singapore when it was all about glitz and skyscrapers. The term "Granite Island" is Malay for "Granite Island," a designation given to the island because of its history as a quarry town.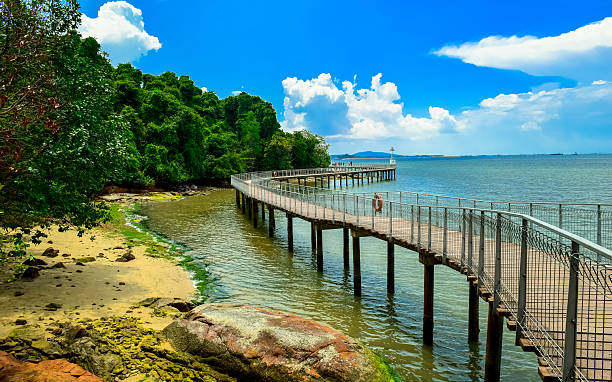 It is now a tranquil, rustic destination where visitors may experience pristine woods and a varied range of species. The Chek Jawa Wetlands, which include a coral reef rich with sea life, are also located on the island.
The island is easily accessible by boat, which departs from Changi Point Ferry Terminal and takes 10 minutes.